←
The Benefits of Automated OEE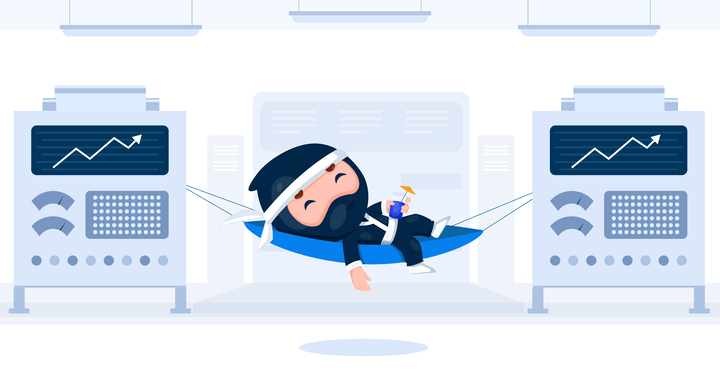 Overall equipment effectiveness is key for unlocking the success of manufacturing companies. It's therefore essential to keep production metrics in view at all times. The OEE metric lets you measure overall efficiency and identify the weaknesses that are causing the
greatest production losses
.
Whether the problem is a bottleneck in machine availability, suboptimal output, or materials and/or employee time wasted as a result of inadequate manufacturing quality and excessive rejects, the OEE metric enables you to effectively boost productivity and margins.
Despite the enormous importance of correctly and efficiently capturing the OEE metric, however, many companies still capture production data by hand. But this approach is prone to human error, while automated software solutions aren't. Decision-makers should therefore think about the benefits they could reap by automating the capture of OEE parameters.
Greater accuracy of captured data
By nature, human beings unconsciously tend to tolerate minor discrepancies and smooth data. Companies that manually capture their OEE metrics therefore have to struggle with the inaccuracies that inevitably result. Over the course of time, even the smallest discrepancies can add up to major errors.

These inaccuracies lead to incorrect conclusions and inappropriate decisions. When it's about capturing machine stops, dips in output, or slowdowns in production, a distorted pictures emerges.

Automated data capture by software, by contrast, reliably records even the smallest fluctuations. Examining how they develop over time can generate valuable insights on the causes of inconsistencies, downtime events, or excessive machine operating times. As the accuracy of captured data improves, you're enabled to take more precise and effective action.
Get reliable, consistent data
Manually captured production data suffers from inconsistency and a lack of precision. This is aggravated by the fact that multiple persons are often involved, even for the same machine or production line.

Each individual who is tasked with recording data has different tolerances, habits, and ways of working. This inevitably leads to smaller or greater deviations. Even if a production line maintains the same OEE score over a period of 72 hours, the probability is great that three different persons will write down significantly different data during their respective 24-hour shifts.

Software completely eliminates these sources of error. Once it has been installed and configured, it consistently captures the required data in the same way. As a result, data series are consistently and completely comparable. This is especially relevant when evaluating the effectiveness of measures taken to boost productivity by comparing "before" and "after" data. Distortions caused from inconsistencies have negative repercussions.
Making the most of valuable working time
An employee assigned to capture production data is unable to do productive work anywhere else. So why should you waste their valuable time on performing a task that a machine or software can accomplish significantly better, faster, and more reliably?

The benefits of automation aren't limited to more reliable data. It also allows you to take advantage of the time, energy, and unique abilities of employees for more important tasks. Specifically, tasks that human beings can do better than machines.
Automated solutions for focused optimization
What applies to production workers also holds true for their supervisors. Automatically captured and therefore reliably accurate metrics also help them do their jobs better. They no longer have to spend time making sure that they get the right data on the right machines at the right times. Thanks to an automated solution, supervisors can focus instead on
optimizing conditions to improve production metrics
.
Data generated by software can, for example, make bottlenecks jump right out. Supplemented by other data, they can also reveal interconnections within the production line. With software, the focus clearly shifts toward taking targeted action to resolve problems and improve the situation.
Reliable monitoring in real time
In order to manually monitor a production line in real time, a very reliable worker would have to continuously capture data and report live on developments. With a custom-tailored software solution, however, all data and sensor reports are not only automatically and instantly recorded, but also displayed in real time on the corresponding monitor. As a result, captured data aren't only visualized on the control panel of each individual machine.

The data can be called up at any time on, for example, portable devices such as tablets, smartphones, or laptop computers. Via the cloud, production data can also be promptly displayed in an organized manner to decision-makers, technicians, or external production experts.
Automated reports and notifications
The most effective reports are those that are consistently and reliably submitted in the same standardized format without the need to remind anyone. The same statement applies to notifications, like reminders that a production system needs to be serviced soon. Software solutions can also take care of automatically configuring reports and notifications and delivering them to the responsible individuals without any detours via the plant or IT network.

Maintenance workers also have direct, immediate access to this information, which enables them to take any required corrective action without delay. Detours and time losses are eliminated. A standardized format for software-generated reports is crucial for benchmarking production metrics. Automatic reports make it possible to precisely scrutinize comparable time periods and optimally allot resources while tailoring the measurement process to actual requirements.
Join the OEE revolution today
Monitoring OEE metrics is a major challenge that has meanwhile become practically impossible to master by hand. Despite this, many companies still opt for this error-prone, resource-hungry approach. Switching to an automated software solution immediately yields multiple benefits, however.

Software systems like SYMESTIC open the door to greater accuracy and data consistency as well as automated reports and reliable real-time monitoring of machines. Above and beyond this, human resources are no longer wasted on activities that could be automated, thus freeing the involved workers to perform creative, solution-oriented tasks instead.

Would you like to know how your company could benefit from automating data capture? Or do you have any questions about SYMESTIC? If so, contact our experts today to get comprehensive advice with no further obligation. We're here for you, and ready and willing to help and advise you over the phone or by email.